CBD + Supergreens
25mg Whole Plant CBD / 10 Greens + Superfoods / 1g Total Sugar
Simplify your day with just one scoop, packed with 10 essential greens and superfoods*
Support your immune system with powerful alkaline greens*
A greens drink you'll enjoy! Naturally flavored with no added sugar or overwhelming "green" flavor - just a hint of mint*
Purposefully formulated with whole plant CBD to enhance these benefits while encouraging a sense of calm and a healthy response to everyday stress*
25mg whole plant CBD per serving | 750mg per pouch
30 servings per pouch
Vegan, Non-GMO, Gluten-Free, Soy-Free, Dairy-Free
Mix one serving (about 1 scoop) with 10 to 12 fl. oz. of water or add to your favorite smoothie. Store in a cool, dry place. 30 servings per package.
Whole Plant Hemp: 25 mg CBD per serving from premium, sun-grown, full-spectrum hemp. Bioavailable in the form of a nano-sized powder. Our Blends: Supergreens blend: Wheatgrass, Spirulina, Moringa Leaf, Matcha Tea, Cracked Cell Chlorella & Superfood blend: Ashwagandha, Beetroot, Turmeric, Coconut Water, Inulin
https://cdn.shopify.com/s/files/1/2397/0831/files/CA211004-005-009_-_Life_Kitchen_LLC_dba_Liveli_-_Liveli_CBD_Supergreens.pdf?v=1634166765
Select your delivery frequency:
Just this once!

Subscribe!Skip or cancel anytime
Save 10% + free shipping with subscription.
OUR STANDARDS
We believe in whole plant, full-spectrum CBD sustainably grown in the USA, pressed into a fine nano-powder without any chemicals or solvents for enhanced absorption.
Sustainable & Clean
Our full-spectrum hemp is top quality, grown in the USA and transformed into a fine powder without the use of solvents or harmful chemicals in the process.
Fill Phytonutrient Gaps
We've taken dense alkaline greens saturated in nutrients -- because everyone knows that flimsy salad for lunch isn't cutting it. This is all of your daily-green-needs in one scoop.
A Little Extra
Our superfood blend adds nutritional benefit and helps ensure maximum green-nutrient absorption. Support the immune system, energy levels, and overall metabolism.*
Nothing Artificial
We use monk fruit for a natural greens sweetness without any added sugars.
Vegan & Non-GMO
We strive to exclude animal products and GMOs whenever possible for the sake of our planet and conscience.
Nano Powder for Maximum Absorption
Highly bioavailable nano-sized hemp particles allow for ease of benefits to the body.*
"
This is an amazing 2-in-1 superfood! I am thrilled to have found a great tasting, nutrient-rich, ultra-clean supplement that also has the best quality CBD!"
Frequently Asked Questions
What is CBD and how can it benefit me?
Cannabidiol (CBD) is a non-psychoactive cannabinoid from the Cannabis Sativa plant. Our products contain less than 0.3% THC so they will NOT make you high. We believe CBD works with other cannabinoids found in hemp through the body's endocannabinoid system (ECS) to help encourage a sense of calm and a healthy response to occasional stress supporting overall well-being.*
Do you test your products for quality, purity, and potency? Where can I find your results?
Yes! All of the above. Ensuring the quality and safety of our products is our first priority. You can find our 3rd party lab tests on our high quality and potency products at the top of the page under "Lab Results".
Are there any added filler ingredients, sugars, artificial colors, flavors, sweeteners or preservatives in any products?
No additional binders, fillers, or preservatives have been included in any of these products. These products do not contain artificial colors, flavors, or sweeteners, either. We avoid all things artificial :)
Where are your ingredients sourced?
While all ingredients are sourced within the US through domestic manufacturers of distributors, some of these ingredients are not native to, and therefore not best grown in the US.
Is Supergreens + CBD keto- and paleo-friendly?
Yes! We try our best to keep everyone in mind when formulating our supplements.
Can I add this powder to just water?
Yes! Unlike many green powders, ours tastes great without sacrificing any of its benefits. You can also add your If you choose you can also add your greens to your choice of milk or even in a smoothie.
What 10 greens and superfoods are in your vegan superfood powder?
The greens in our powder include clean + sustainably sourced hemp powder, organic wheatgrass juice powder, organic moringa powder, organic spirulina, organic cracked-cell chlorella, and organic matcha tea powder. The superfoods in our powder include coconut water powder, organic ashwagandha powder, organic red beet, and organic turmeric powder.
Customer Reviews
08/01/2020
Andrea M.
Guatemala
06/16/2020
maral
United States
purchasing again!
totally loved this. it smells good. comes with a perfect sized scoop. easy way to add a bunch of greens to my smoothie. my favorite CBD product.
05/28/2020
Kayla
United States
Unique and delicious product!!
Phenomenal! I love how the CBD greens combines two of my favorite foodie & self-care items...the greens cover my bases for nutrient needs and the CBD allows me to relax/recharge and refocus when I need it most. I love how easy it weaves into so many different food items, too!
05/26/2020
Kat
United States
Great subtle taste!
Normally I resist using "greens" powders- especially ones with green algae due to the overpowering flavor it adds to my morning smoothies. However, one scoop of liveli supergreens in my smoothie hardly adds any flavor at all, and I can take my daily dose of antioxidants and CBD with no problem! Very impressed by this brand.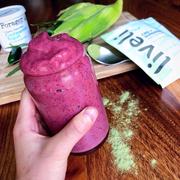 05/19/2020
Jacqueline K.
United States
Mood Upswing
I am amazed at the sense of well being SuperGreens have afforded me. Putting a scoop in my morning smoothie. I just feel uplifted and that taking care of my immune system is not a maybe but a must! Thank you Liveli for being there . Jackie